Reading Time:
3
minutes
Unleash the full potential of your business with our end-to-end solutions.
We do not just support your business, we take it to the next level. Bent on doing things your way we are delighted to offer you an evolved take on enterprise transformations and enhancements. With our advanced development suits and services, together we can make your customer service extraordinary, teams more lucrative, and processes more powerful.
Experience the breakthroughs in every aspect of your business with elevated communications, agent productivity, centralizations, task management, reporting, segmentation, and more, and get an edge over your peers from your industry.
Outsource Salesforce Services
Leveraging the power of Salesforce, we enable our clients to become high-performance businesses with our following suite of development and services.
Salesforce API Integration
Overwhelmed with scattered data and processes, and disconnected systems?
We can seamlessly integrate your system with Salesforce and its programs such as Quickbooks, ERP, MLS, Shipwire, Shopify, eCommerce, WordPress, and more to facilitate new levels of efficiency, productivity, and robustness to your processes and connect everything to one unified platform
Salesforce Consulting Services:
Confused about what to choose?
Let us help you pick the right combination of apps, packages, or customizations that your business needs to succeed. We will offer you strategic advice and a comprehensive CRM roadmap to put an effective CRM strategy in place that will help you run your data operations more efficiently and expedite revenue growth.
Salesforce Implementation Services
Want to maximize your business potential and sales revenue?
Let us help you in transforming your business potential by redefining productivity and increasing customer satisfaction. With our strategic approach and customized solutions, you will be able to drive high customer engagement, increase workforce productivity, and turn opportunities into revenue.
Salesforce Lightning Services
Build apps faster and increase your sales productivity!
Taking productivity into a whole new territory, let us help you unlock the potential for your business. With Salesforce Lightning experience we can create a customizable Salesforce CRM your way to build a smarter work environment with automated processes, and integrated external applications according to your business needs.
Salesforce Data Migration
Want to migrate your data to the cloud?
Let us help you with it. Irrespective of the amount of data, we can expertly and reliably migrate your data from sheets or your old CRM to Salesforce ensuring the data mapping with no disruptions; leaving the data intact and uncompromised.
Salesforce Customization Services
Looking for a customizable solution?
Since, every business is different, they have different processes and require different solutions. We can offer you top quality, reliable, and scalable customized Salesforce services such as custom reports, dashboards, streamlined workflows, and more including data migration, security, automation, and Customer Lightning Experience according to your requirements to achieve your business goals.
Now, since there are too many services and you want to quickly finalize the scope and cost of your project immediately, we have something for you.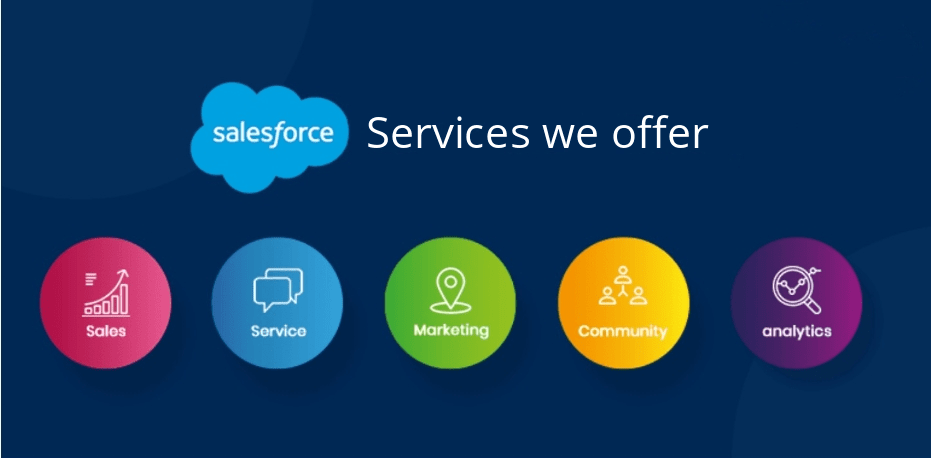 Get your quotes in seconds with Salesforce Project Estimator!
Save your time by leveraging Salesforce Project Estimator to estimate the costs and scope of your Salesforce project on the click of a button. We offer a streamlined approach to calculate your project costs faster and accurately all by yourself. 
You don't need to drop an email to us or reach out to our customer care! Instead, put in your requirements and the Salesforce Project Estimator will show you the costings right away hassle-free.
We aim to deliver a seamless experience to our clients with transparent quotes, and tailored resource planning to help them do good business. If you are looking for something like this, we are happy to help!